This article is part of our series Battle of the Brands, in which we compare category-leading products to their counterparts to determine which are actually worth your money.
There's one brand that has dominated the slipper game for years: Ugg.
But the Ugg Scuffette II slippers come with a hefty price tag, and Ugg isn't necessarily the only option. And just like we tried and loved this highly rated Amazon knit pullover sweater set and nightgown dress, we also saw that Amazon also sells a lookalike memory foam slipper option, from the brand Donpapa, for a quarter of the price.
Since savvy shoppers know it's only a deal if the product is worth it and holds up, I set out to compare them, alternating between each for a week.
Not only do the longer-lasting premium materials offer more heat absorption for a more cozy feel, we found the Uggs offer a better overall fit (especially for those with smaller feet) that justifies the price for those who wear slippers daily.
We found these slippers do a good (not as a great as Uggs) job at keeping toes toasty while also being surprisingly comfy thanks to the full faux-fur lining and memory foam cushioning, making them ideal for those who don't wear slippers often and want something budget-friendly.
Material

Suede and genuine shearling, rubber sole

Faux fur, rubber sole

Sizes

5-12 US, medium width

Medium (7-8 US)
Large (8.5-9 US)
X-Large (9.5-10.5 US)

Colors

11

7

Fit

Cozy but slightly big

True to size

Features

Water-resistant, trimmed and lined with real sheepskin

Anti-slip memory foam, trimmed and lined with faux fur, machine washable

Price


$95




$23


To make sure you end up with a new pair of slip-slips (as I lovingly call them) that fits on the first try, you might have to order a different size than you would normally go with depending on which brand you decide to order. For the Ugg Scuffette II, I found that they ran big and I ended up sizing down (I'm typically a 6.5-7 but wore a 6 in these slippers). Although I was in a full size smaller than I sometimes wear, there was still room at the heel. They were snug overall, but this just helped keep the slipper on as it loosened over time with walking.
For the Donpapa version, I wore the Medium (7-8 US) and it was definitely bigger. I could've gotten away with sizing down if a size Small was available, but this version was just fine too — nothing a pair of cozy socks couldn't fix. But something to note before ordering this style: The brand tells shoppers to ignore the size number at the bottom of the sole, that "it's the manufacturer size, not on behalf of US size." So only go by the Medium, Large and X-Large and ignore any numbers in the product pictures (which might get confusing).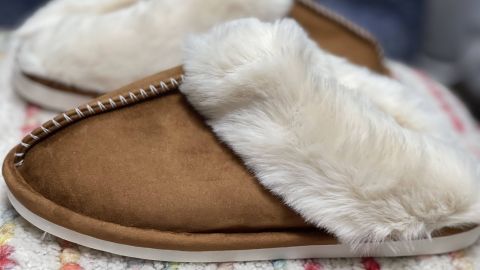 Comfort and warmth

Considering that I work from home and I live in a shoe-free household, I get a lot of wear out of my slippers. So I can feel the difference between just an okay pair of slippers and one that is going to disintegrate between my toes in a matter of weeks very quickly. As soon as I tried on the Donpapa pair I was surprised at how silky the faux fur felt — and throughout the entire shoe, not just around the rim like some cop-out slippers. Plus, you can feel the memory foam cushioning with each step, and although neither base was particularly hefty, Donpapa's version was slightly thicker.
But then there's Ugg's style, with its suede exterior and cloud-like shearling made from real sheep or lamb fur. Not only does this lining do a better job of keeping my feet warm for longer periods of time, but I also don't have to wonder if I'll get weeks or months before I wear it out. This quality lining can easily stand up to a year of abuse from my feet before showing signs of starting to crack under the pressure.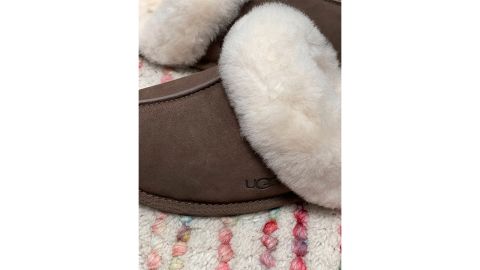 It's great if slippers have a nice plush lining. But that isn't going to keep me safe from the ice blocks taking up residency as my toes. I need some serious fur deep on the inside of my slipper, whether it's real or faux fur, as insulation to keep heat in.
Overall, Ugg's shearling interior locked in more warmth for a longer period of time, keeping my feet cozy at all times.
Material and details

Both of these slippers are waterproof, which is an essential feature in the world of slippers. Nobody wants to ruin a good pair of house shoes with soggy feet after getting out of the shower. That isn't a worry with Ugg's suede upper and shearling interior. But where Donpapa's rendition has Ugg beat is that their slippers are machine-washable. However, these rounds of washing come with benefits and downsides. Pro: You get to wash away any potential foot sweat, dirt and odor. Con: Each machine wash is removing potential life and time from the faux fur.
But one area that both of these shoes are lacking is that they are definitely slippers — and only slippers. Neither of them are house shoes because both of their soles are on the flimsy side. Ugg, of course, has much better solutions to both of these available for a higher price, namely Tasman, Coquette and Disquette.
At first glance and wear, these slippers seem very similar.
Both of these slippers achieve the primary goal immediately: defrosting your feet and immediately warming them up. But then Ugg's genuine shearling does a better job at trapping and insulating your foot's heat than the counterpart's faux fur lining. Plus, the sheep and lamb fur tend to hold up better against the daily wear than the faux fur lining.
Although slippers provide immediate warmth, the Ugg Scuffette II is a hands-down winner when it comes to women with smaller shoe sizes or those looking for a higher-quality material due to its better overall interior sheepskin. However, if, unlike me, you're more of a casual slipper wearer, I can't say it necessarily warrants spending nearly four times as much on them. But if you're hoping for a low-maintenance, machine-washable option or a sturdier sole, the Donpapa style is your best bet of the two.